This article is for tenant and workspace administrators. Tenant administrators are people in your company who can view and manage the models and workspaces at the tenant level. Workspace administrators are people in your company who can add new users to Anaplan, set up user roles, and perform model building and administration tasks.
What is the maximum workspace size?
The maximum workspace sizes are:
130 GB for Standard workspaces.
720 GB for HyperModel workspaces (minimum 200 GB). To learn more, contact your Anaplan account team. Also, refer to HyperModel Best Practices.
How do I manage my workspace?
Model management lists all the models in your workspace, the amount of space each model uses, and the amount of free workspace available.
To open Model management:
From Anaplan Home, select View all models > Manage models.
If you've more than one workspace, select the workspace then select Manage models.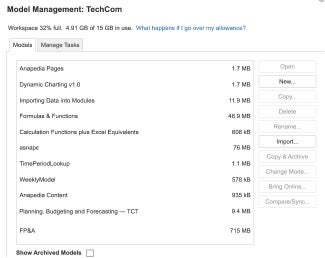 To learn more about model management visit Manage models.
Can non-single sign-on (non-SSO) users access an SSO workspace?
Yes; these users are exception users and log in directly to the platform.
To allow a non-single sign-on user access to a workspace:
Open an Anaplan model and select Users in the model settings bar.
In the Users tab, find the email address for the exception user and deselect the Single sign-on checkbox.
To learn more about single sign-on login, visit SSO.
How can I get more workspace?
Contact your Anaplan Business Partner to increase your workspace.