This article is for all users.
Case Portal provides simple templates for all different types of issue to ensure that you provide all the necessary information. It also gives you links to common support questions based on the information that you provide.
Case Portal has no additional cost. It's included for Anaplan users.
See this video for an overview: Case Portal video.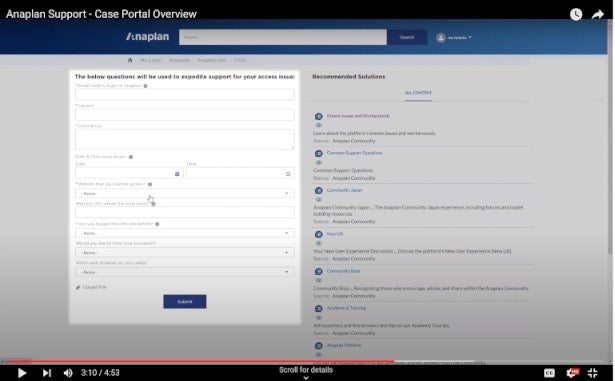 How do I register for Case Portal?
If you've an active Anaplan account and have previously submitted a support case, you automatically have access to Case Portal. You receive a password activation email when your account is set up.
How long do I have to activate my account?
You have 180 days from the time you receive the password activation email to activate your account.
What do I do if my password link expires?
If your password reset link expires, email the Customer Care team: support@anaplan.com.
I already use Case Portal, how can I access it?
Your password activation email includes instructions on resetting your password.
Select this link to access Case Portal.
How do I submit a case?
On the Case Portal homepage, select the tile that most closely matches your request. For example: I am unable to access Anaplan.
Enter the information that details your request.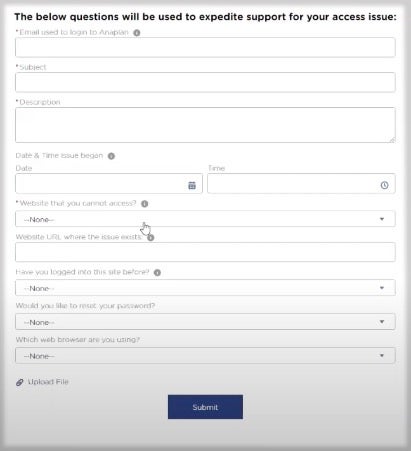 Select Submit.
You can only submit your own support cases with Case Portal.
Who do I contact if I have questions?
Talk to your Anaplan Business Partner. If you have an issue that needs troubleshooting, submit a case directly to Case Portal or through any of the other contact options listed on support.anaplan.com.
Can I still email Support cases?
Yes, but we encourage you to use Case Portal to easily track your case.
Can I submit a feature enhancement request?
Submit feature enhancements and feedback for Case Portal on Idea exchange.